As one of the fastest-growing cities in India, Noida has become a hotbed for investment in the commercial real estate shops sector. With its modern infrastructure, excellent connectivity, and booming business environment, Noida offers many opportunities for entrepreneurs and investors looking to purchase commercial shops in Noida. In this blog post, we will explore the advantages of owning commercial shops in Noida and highlight some of the top areas where you can find commercial shops for sale in Noida.
A Thriving Commercial Hub: Noida, short for New Okhla Industrial Development Authority, has emerged as a prominent business destination in the National Capital Region (NCR). With its well-planned layout and state-of-the-art infrastructure, Noida provides a conducive environment for businesses to flourish. The city boasts numerous commercial complexes, corporate offices, and retail spaces, making it an ideal location to invest in commercial shops.
Owning Commercial Shops in Noida and Yamuna Expressway can offer several advantages. Here are some key benefits:
1. Thriving Business Environment: Noida and Yamuna Expressway are rapidly growing commercial hubs in the National Capital Region (NCR) of India. They attract a large number of businesses, investors, and consumers, creating a thriving business environment. This translates to a potentially high customer footfall and increased business opportunities.
2. Strategic Location: Noida and Yamuna Expressway enjoy a strategic location with excellent connectivity. They are well-connected to major cities like Delhi, Gurugram, and Faridabad. The presence of the Yamuna Expressway, Noida-Greater Noida Expressway, and the upcoming Jewar Airport enhances accessibility and facilitates seamless transportation of goods and services.
3. Retail and Entertainment Opportunities: The demand for retail and entertainment spaces in Noida and Yamuna Expressway is rising. Shopping malls, multiplexes, restaurants, and entertainment zones attract a significant consumer base, making commercial properties in these areas highly sought after. Owning a commercial shop in Noida and Yamuna Expressway locations can provide ample opportunities for retail businesses to thrive.
4. Real Estate Investment: Noida and Yamuna Expressway are witnessing substantial real estate development, making them attractive destinations for property investment. The appreciation of property values in these areas has been notable in recent years, presenting potential capital gains for commercial property owners.
Investing in commercial shops in Noida and Yamuna Expressway can be a highly rewarding decision due to the city's impressive growth and business-friendly environment. Whether you are an entrepreneur looking to start a new venture or an investor seeking long-term returns, commercial shops in Noida & Yamuna Expressway offer a wide range of options to suit your requirements. By exploring the various commercial areas and understanding the market dynamics, you can make an informed decision and capitalize on the opportunities presented by commercial shops for sale in Noida. Remember to conduct thorough research, seek professional advice, and evaluate the potential for growth before finalizing your investment.
Lord Krishna Medlley is a commercial project located on the Yamuna Expressway giving high returns.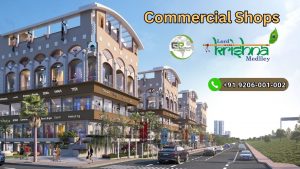 1.Range of Commercial Space: Lord Krishna Medlley or similar commercial projects typically offer a range of commercial spaces such as retail shops, showrooms, office spaces, and food courts. These spaces cater to different business requirements and allow for various types of businesses to establish their presence.
2. Modern Infrastructure: Commercial projects like Lord Krishna Medlley are designed with modern infrastructure and amenities to support business operations. This includes facilities like power backup, efficient ventilation, and well-maintained common areas.
3. Location Advantage: Being situated on the Yamuna Expressway, Lord Krishna Medlley may offer excellent connectivity to nearby cities and areas. The expressway connects to major transportation hubs, making it convenient for customers and employees to reach the commercial complex. Proximity to residential areas and tourist attractions can also attract potential customers.
4. Potential Customer Base: The Yamuna Expressway is a busy corridor that witnesses a significant flow of traffic, including locals, commuters, and tourists. This can provide commercial establishments in projects like Lord Krishna Medlley with a potentially large customer base, boosting business prospects.
5. Investment Opportunities: Purchasing a commercial shop in a project like Lord Krishna Medlley can be seen as an investment opportunity. As the area develops further and experiences appreciation in property values, there may be a chance for capital gains or rental income from leasing out the commercial shop.
Amenities and Facilities: Commercial projects often offer amenities and facilities such as parking spaces, 24/7 security, maintenance services, and common areas for networking and collaboration. These features can enhance the overall experience for business owners and their customers.
Before making any investment, conducting thorough research about the specific project is crucial, evaluating its reputation, understanding the terms and conditions, and assessing the current market conditions. It's recommended to consult with real estate consultant: Contact Global Realty for the most accurate and up-to-date information regarding commercial shops for sale in Yamuna Expressway.